We can make a difference in the life of needy children
Around the world, there are many well-known charitable organisations but few can pride themselves in working to achieve the ideals we advocate: love of humanity, help to the deprived, generosity and fraternity.
One of our basic principles is that all Council members serve in an unpaid volunteer capacity, covering expenses personally. Therefore all donations go to the children.
our Mission
SPES-USA is the American arm of SPES (Support for Suffering Chidren = Soutien pour enfance en souffrance)
SPES International ïs a charitable organization that helps orphaned children in aids-ravaged West Africa via supplying the complete needs of the children: food and housing, education, clothing, healthcare, and community support while maintaining them within and still a part of their community as well as helping to support the schools of the villages.
SPES is a voluntary association comprising unpaid members. All funds go fully towards the support of the children -- food clothing shelter-- , and the teachers and orphanage staff.
In the United States, persons can donate to this cause via the US arm "SPES-USA" and/or can provide greater support by monetarily sponsoring a child through the organization.
Successful stories
SPES has already founded 2 orphanages in Togo, West Africa: in Lomé and Kpalimé. These orphanages accommodate about 160 children (currently) in a decent environment where housing, food, clothing, health care, and education are all provided. Supervision and education is done with the aid of "house-mothers" and "house-uncles". This all has been accomplished with the aid of the supporting members of SPES and the personnel of SPES- Togo.
About Us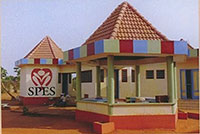 SPES translated from Latin means HOPE. In French, the letters stand for "Support for Suffering Childhood".
SPES International its American branch SPES- USA is a philanthropic, apolitical , nonprofit association founded in the year 2000. SPES is a voluntary association comprising unpaid members. Everything you give goes directly to SPES- Togo to support the needs of the children.